Our Hair Stylist Team at AquaeSulis

Larissa Thripp
Director / Creative Stylist & Colourist / Great Lengths Bonded Extensions Specialist
Larissa began her career in hairdressing 23 years ago after spending her teenage years assisting in her mother's hair salon. After completing a business and marketing diploma Larissa then completed her apprenticeship and opened her first salon at 25 in Rowes Arcade, Brisbane. Specialising in bridal hair including 5 years of hairstyling for the Brisbane Bridal Show she then trained and qualified three apprentices and had the opportunity to educate fellow hairdressers in colouring and bridal hair for Wella Professional. After years of hard work, dedication, professional and personal growth, Larissa decided to step back for a short while and spend some precious time with her young son. In December 2007 Larissa purchased a hair salon with her mother, now an accomplished hairdresser of 50 years by forming a joint venture where Aquae Sulis Hair on Merthyr Road New Farm was created until Ailsa's retirement in December 2015. Larissa has now continued her journey along with Nick, whom she trained back as an apprentice almost 12 years earlier with a full renovation and move to Brunswick Street in Feb 2016. Larissa is an accomplished hair stylist and colourist with a preference towards classic cutting and seamless, natural colouring techniques and is highly experienced in both single bonded and tape hair extensions. She enjoys the simple pleasures in life, family, international cuisine, music and health plus her two gorgeous poodles, Teddy & Rocky. With hair as her passion, embracing ongoing education through mentoring sessions, seminars and courses enables Larissa to always bring the latest trends and high quality products to her clients.

Nick Spillane
Creative Stylist & Colourist / Japanese Straightening Specialist
Nick began his hairdressing career 13 years ago at the age of 18 as one of Larissa's apprentices in Brisbane Arcade. In the early days his natural flair and talent as a stylist became evident and Nick immediately gained a loyal following. Almost 6 years of working with Larissa, his strong desire for knowledge, growth and continual advancement took him to high end salons, where he rose to the level of Creative Director and mentor to hairdressing apprentices. After almost 2 years away, he returned back to AquaeSulis where his desire to work within a boutique salon and providing personalised care to his clients could be fullfilled. Nick has advanced his skills in both cutting and colouring, extensions and Japanese straightening and loves to educate his fellow team mates and clients with his passion and knowledge. Beyond the salon his love for animals and nature provide him the balance he craves, spending quality time with his pooches, exploring the hillsides, rainforests and beaches of Queensland. The essence of nature has always inspired Nick and his wealth of knowledge and experiences both professionally and personally allow him to create amazing relationships with his clients whilst creating seamless, natural looking colours within beautiful hair.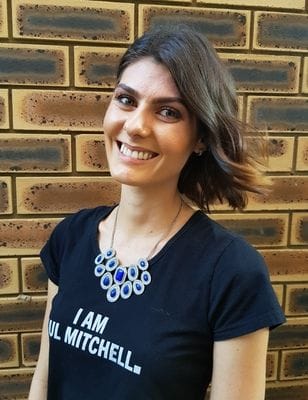 Skye Berrell
Senior Stylist & Colourist & Makeup Artist
Skye is into her 3rd year of hairdressing and is a valued salon assistant & Junior stylist/colourist at AquaeSulis Hair. She has already developed a warm and friendly attitude with exceptional customer service skills whilst completing a beauty & makeup diploma and now compliments her beauty knowledge with the wonderful world of hair. Proving she has a meticulous eye for detail and fast learning ability, there is no doubt that Skye has the qualities it takes to become successful within our industry. We are looking forward to her training, offering inspiration and watching her journey in becoming a talented hairdresser.